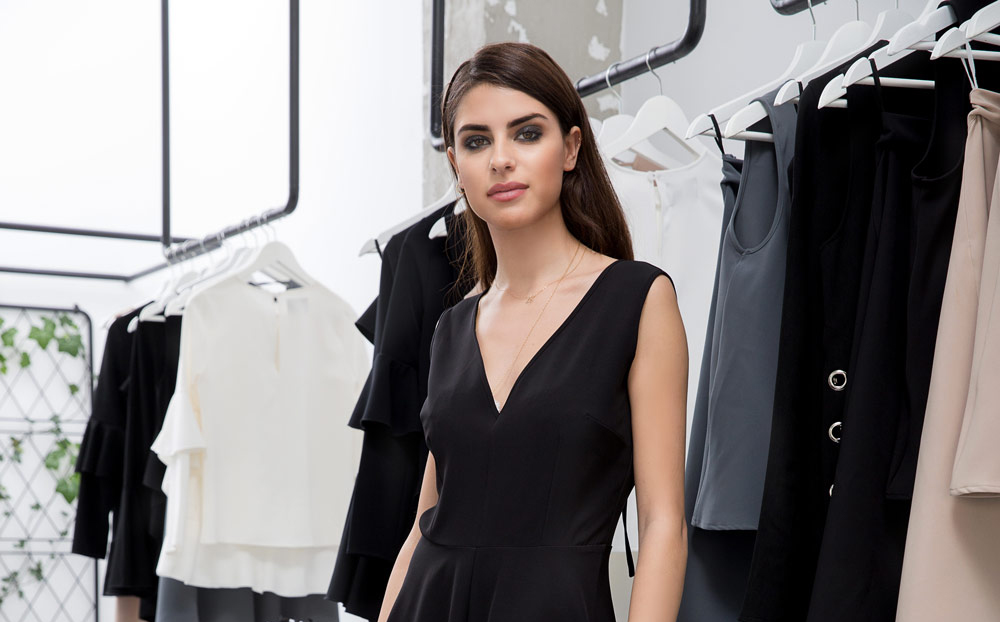 You are always on the fashion look out, so which fresh spring/summer trend you are particularly fond of?
For me its not really about seasons its more of a style and an idea that an individual has , we all tend to change our views on fashion  but for this spring / summer season the trend I'm in love with is safari which is actually my inspiration for my summer collection on ZS.
You've been a stylist for Moi Ostrov on quite a few occasions. What's the most thrilling part of styling process for you?
Yes thats true and its always my pleasure and honour when I collaborate with the Moi Ostrov team ! I believe its the same for every stylist , the most thrilling part is when you know you've worked so hard the previous days but on the day of the shoot when the images are capture you get a certain buzz and a thrill , it's like falling in love but with fashion instead.
Tell us a bit about your brand ZS. Who is the muse of ZS? What inspires and distinguishes her?
My label hasn't been around for so long but I feel like it's on the right path to give the right message to its audience . For me the muse of ZS is a woman full of elegance , grace and passion , a woman that knows what she wants and is ready to take it. Getting inspired by the little things in life and essentially to be beautiful from with in because trust me when you see a woman of that kind you know and I see that in all my clients , thats something that give me the biggest joy of all !
What exciting news about ZS can you share with us?
My little secret is that I'm planning a fashion show for this summer , SAFARI themed but theres' gonna be a lot of twists and surprises with it , I'll be updating everyone on my social media very soon .
What are you looking forward to right now?
To be honest theres something I look forward to every single day , I never let myself say this is what I'm looking forward to and when the day comes I'll be fulfilled . Theres always something new , something better , something different so I keep reaching one idea and simultaneously planning the other , this way you never lose your motivation and interest in life .
You are a big fan of monochrome combos and classic color compositions. Why color unfriendly? ☺
I'm going to be honest with you the main reason I'm not that color friendly is my OCD , it's not something I'm ashamed to share theres a lot of people struggling with different forms of OCD but for me thank god I express that frustration through my clothes and the fact that people can see the same vision inspires me daily.
What's the one thing we'd never see Zoe wearing?
That's a tricky question , up to now I would say color , and most specifically red but I'm really trying to challenge myself in that department so lets see what the future holds.
What are the rules of perfect style according to Zoe Sophocleous?
Perfect style for me is comfort . I would never make myself wear something Im not comfortable in because well it shows . If a woman wears what she loves , then she can rule the world in that attire .
You are quite active in social media. Tell us a bit about your fashion baby – Natural Citrine. 
Natural Citrine is my fashion blog , where I share my style ideas and travel news which include food and architecture my two weaknesses after fashion . We are now currently working on a website for my blog where I'll share much more , for example styling , photography, illustrations and much more !
What do you wish made a comeback this year in the fashion world?
Personal style would be something I want to see this year in the fashion world which is something we are already starting to see , a lot of designers and bloggers are expressing themselves differently not really following a fashion trend but just following their inner instinct !
Which celebrity you'd love to go shopping with?
That would be Victoria Beckham , she seems strongly opinionated on what she wants but also very funny and real , so I think that would be a great experience .
What 5 items should live in each woman's wardrobe?
Speaking from my own experience , I wouldn't be able to live without hats of any sort whether thats sporty or classy , of-course about 1435 different types of "the black bag " and another 2344 types of "black shoes , I know every woman can relate here . Also the white T which is something I use on the daily of course styled differently on every occasion . Last but not least , comfortable clothing like I said above it's the most important thing , I like to walk around in my clothing feeling like I can go to bed with them .
You are a busy girl. ☺ In addition to being a stylist, designer and tv presenter, you are also a successful model. Speaking of modelling, who is your absolute fave model of all times?
Yes I must admit its a pretty busy schedule but I wouldn't change it for the world . My favourite model would be Kate Moss because she strived from what made her different and that's really inspirational .
Which fashion designer inspires you nowadays?
My ultimate favourite is " THE ROW " which are actually two designers, Mary-Kate and Ashley Olsen . They have clothing with the perfect balance of minimalism, comfort and quality.