Show Report: CFD Designers Only Show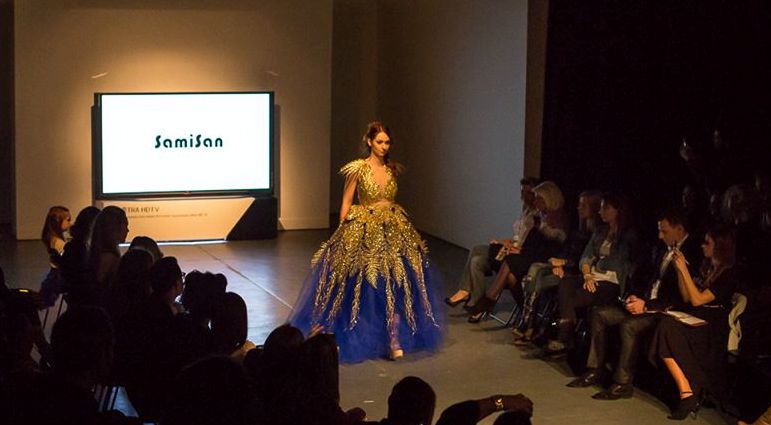 Cyprus Fashion Days Designers Only Show, moiostrov.com reports on one of this month's fashion highlights that took place last week at the Melina Mercury Theater in Nicosia,  kick starting the mood for your spring/ summer wardrobes.
Moi Ostrov team reports:
STUDIO 8
With a full packed audience, first up we were presented with the Young Designer students of the Studio 8 institute showcasing their abilities and talented efforts playing with structure, colour and detail of both the A course and B course students in Fashion and Design where for their first show on the catwalk they let their imaginations run free. There was a special refreshing feeling that was amidst the mood during this specific show as it wasn't laid out in set trends but more along the lines of freestyle designs that really stood out individually also introducing the audience with a new sense of thinking when it comes to everyday dressing. Experimenting with new shapes, different textiles, and a new modern take on evening wear, these young designers cool irony hugely revealed a visual delight.
[fusion_builder_container hundred_percent=»yes» overflow=»visible»][fusion_builder_row][fusion_builder_column type=»1_1″ background_position=»left top» background_color=»» border_size=»» border_color=»» border_style=»solid» spacing=»yes» background_image=»» background_repeat=»no-repeat» padding=»» margin_top=»0px» margin_bottom=»0px» class=»» id=»» animation_type=»» animation_speed=»0.3″ animation_direction=»left» hide_on_mobile=»no» center_content=»no» min_height=»none»]
SAMISAN
Next up a flash of glamour brightened up the catwalk for the SAMISAN show cobalt blue full on cascade tulle gown holstered by rich in sparkling gold three dimensional exotic leaves re-examining the romantic side of a new golden age transferred onto fabrics in such an immaculate and astounding way,proves designers still have the ability to produce a bank of ideas when trying to fill a runway with an outnumbered audience on the look out.
RODOULA GEORGIOU
Immersed on the runway during the Rodoula Georgiou show models came with monochrome retro prints on floor length A-line skirt, demure black jumpsuit followed by a pallet of earthy and neutral colours on light and airy maxi length top and an open cut sleeveless dress matched with a wrap headpiece that collectively mastered that desert chic look for those warm red sky days. Show some skin and brave the heat in designs by Rodoula Georgiou.
MARA MINODORA
Cocktail hour dressing just got a new image that fired up the scene for the Mara Minodora show with black diaphanous sheer linen skirt with delicate appliqué floral detail right down to the hem with an underlay of a sequined mini followed by a body hugging with more c-through detail and a wispy fringed hem; proving that just a pinch of skin can do wonders with out having to over load the look maintaining a lady like glam. 
City dressing also approached us with tailored white waistcoat dress bound to make you look sharp and ready to face on challenges, as well as more formal two piece outfits in champagne gold tones, organza ruffles and satin pastel lilac with small dashes of a nude in all the right places. Lots of versatile separates put together for the right reasons by Mara Minodorou.
Her attention to detail, her absolute dedication to every collection and her ambition to constantly evolve the way her designs are perceived, Fashion Designer Polina Argyrou is the ambassador of chic. Take a classic crop match it with a floral printed knee length skirt and your good to go,
entering spring never felt so satisfying with pastel mint greens, lilac and stripy prints. Crochet appliqués on sheer fabric hot pants, tops and pencil skirts Polina Argyrou's show poetically established this season's spring ready to wear looks. Staples that will take you right through summer not forgetting Polina' s signature evening gown in rich grassy green, Tuscany burnt orange, mystic black with futuristic sleeve detail as well as her renowned take on detail to pattern. Polina Argyrou definitely knows how to seduce a crowd with gorgeous pieces such as these.
CARPE DIEM
The finale show Carpe Diem couldn't of surprised the audience in any other way with a grand entry using live driven in Harley motorbikes carrying the models to center stage, we were all in awe as the engines kept on hurling on the catwalk, slowly making their presence aside, the models took on the catwalk with a spring summer palette of colour, this new bohemian glamour translates to beach billowing fringe kaftans topped with headscarves, turbans and toed with rustic leather beach wedges. A blast of denim, laser cut patterns on leather waistcoats. A wide choice of slinky swimwear a pure castaway heroine in mocha caramel knitted bikinis and lipstick red and black crochet net swimsuits, sweeping maxi length canary yellow skirts, a fine match of animal prints with contrasting textures give us the total summer look. An exquisite trawl with anticipation for a hot summer by Carpe Diem.
MAKE-UP by Vasiliki Alexoglou, Maria Ioannou and Galina Pitsilou
Models glowed with peachy cheeks with a natural complexion finish resulting in a healthy skin look, with sheer metallic eye shadows just below the brow bone  with minimal mascara and eyeliner paired with full plump pink lips, it was all about choosing the right shades and blending in to create a natural tame but fresh look.
HAIR  by Panayiotis Aleksandrou, Panayiotis Assiotis, Antonis Demetriou, Nicolas Papatheodorou
Hair stylists avoided the glam hair up do's and instead combined headscarves  and turbans accessories keeping hair groomed into smooth beach waves  that were the perfect finishing touch leaving the glossy silky curly ends do the talking.
More fashion frenzy looks of the latest shows on the hottest runways here on moiostrov.com 
SarahJane Kyprianou
Fashion Columnist
[/fusion_builder_column][/fusion_builder_row][/fusion_builder_container]
This article is also available in: Английский