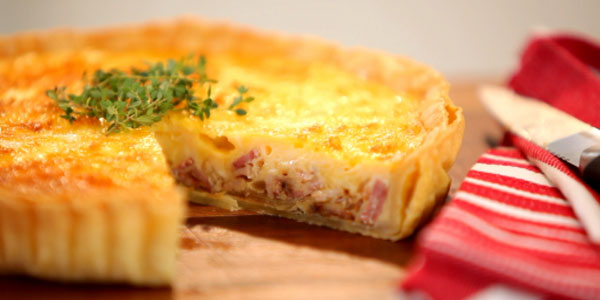 QUICHE LORRAINE offered by La Maison Fleurie – French Restaurant
Limassol – Cyprus, Tel. +357 25320680, email: [email protected]
This quiche Lorraine recipe yields a rich egg pie and hails from the mountainous region of Lorraine in northern France. Sufficient for a filling meal in itself, quiche Lorraine has been adapted over the years from a humble custard and bacon pie to the substantial cheese, bacon, and egg creation that it is known for today.
Prep Time: 10 minutes
Cook Time: 50 minutes
Total Time: 1 hour
Ingredients:
1 layer pastry dough
4 slices bacon, crumbled
4 eggs
half cup milk and half cup melted butter
¼ teaspoon salt
1/8 teaspoon white pepper
1/8 teaspoon freshly grated nutmeg
1 cup Gruyere cheese, shredded
Preparation:
Preheat the oven to 180'C degrees. Fit the pastry into a deep-dish pie pan. Sprinkle the bacon onto the bottom layer of the pastry. Beat together the eggs, half cup milk and half cup melted butter, salt, pepper, and nutmeg. Pour the eggs over the bacon and sprinkle with the shredded cheese. Bake the quiche for 45-50 minutes, until the eggs are set in the middle. Cool slightly and serve.