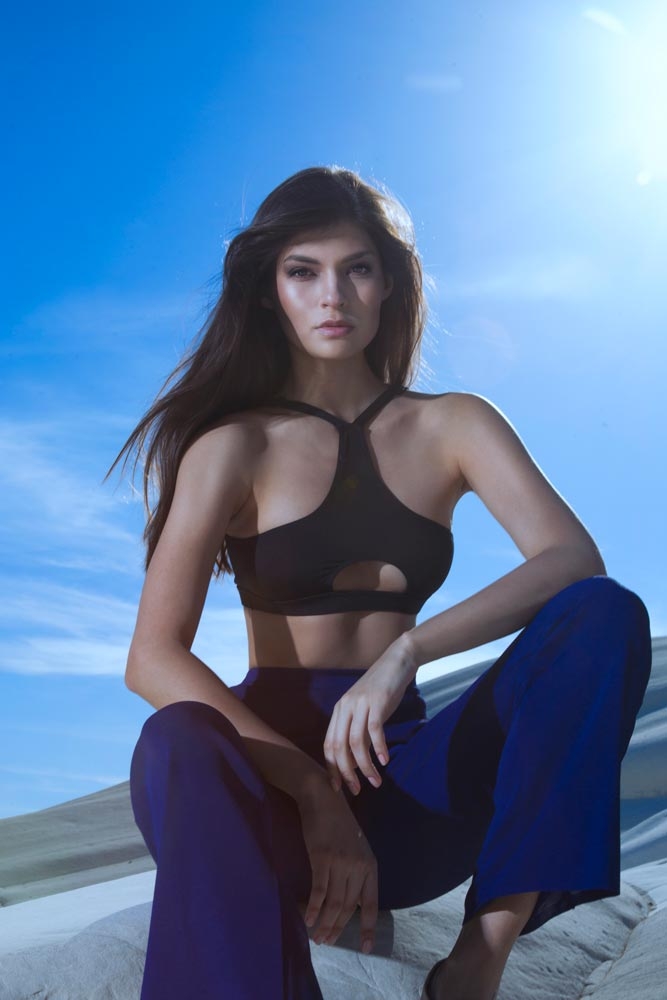 From just a single glimpse at model Natalie Maury' s soulful melancholic gaze through her  raven dark brown eyes, her luscious pillowy pout, and luxuriant olive skin, that's all it takes to fall under her magnificent spell. With all glances trained firmly on her 177 cm gazelle-like silhouette, Natalie Maury in this Issue's front cover talks about what it takes to become from classic beauty to a catwalking chameleon fashion model in this exclusive interview.
Name: Natalie Maury
Nationality: Latvian
Age: 23
Home Town: Riga
Agency: Bookings models London, M4 models Germany
MOI:  Has modeling always been a childhood dream of yours? Tell us a little about your first experience in fashion modeling and if working as a fashion model has changed your sense of self? 
N.M: Childhood dream no;, but it all started with my first job that was for a hair company shoot, I was very inexperienced and basically didn't know what to do and how to do it. So far in this industry I'm still me; though I think you judge yourself more, when comparing yourself to other people and always being aware that people will stare, judge you, I have a long way to go to become the person I want to be.
MOI: Can you tell us what are some of the basics that you need to learn in order to  become a model ready to take on the fashion capitals? And is there a particular favorite moment in your modeling career that you would also like to share with us? 
N.M: You have to be able to walk on the catwalk, know poses and be able to pose for the camera. With the time you get to know more and professionalize in what you do. My favorite moments are traveling to new places that I have never been to before.
MOI: What about the recent photo shoot for our Magazine's April issue editorial, did you enjoy your time during the Moi Ostov photo shoot? What did you like the best on the location? 
N.M: Yes, it was a great day. It was really easy to work with photographer and the shoot went smoothly. I loved the luxury atmosphere in such a high class property.
MOI: One can never be overdressed but I'm sure that when your faced with so many luxury clothes during a photoshoot you would want to wear them all, out of all the clothes you wore during our Moi Ostrov shoot, what was your favourite piece you particularly liked? and on what type of occasion would you wear this? 
N.M: I liked both the, black and pink pointy flat shoes. Also I loved max and co orange top, it looked nice on me and felt comfortable. All of these things would be in my every day wardrobe.
MOI: Your also currently staying in one of our island's plush resorts, a hot spot for many celebrities at the Londa Hotel, what where you first impressions? Do you think the Island of Cyprus differs to your usual Mediterranean Island and in what way?
N.M: Londa Hotel had a nice design of the lobby, great welcome and helpful staff. I think it slightly different here in Cyprus, as there are a lot of Russian people and most of the people speak English. I would also say the nature is beautiful like in all Mediterranean Islands.
MOI: You will soon be returning to your current home town London? Describe how you would spend an off duty day out? 
N.M: Go to a nice restaurant with my boyfriend, then go cinema or have drinks with my friends at a bar and finally go to watch stand up comedy.
As is expected for a model newbie, Natalie Maury at just a mere age of 23 years old she has managed to cement her chameleon-like model looks that have helped her maintain appearances in a wide range of commercial exposure and no doubt even more successful endorsement deals to come and an even greater future ahead of her.
This article is also available in: Russian