Biologique Recherche…40 years of passion…
When the company was founded, thirty five years ago, it functioned like a research and development laboratory whose sole vocation was to develop formulations for  professionals dissatisfied  with existing products.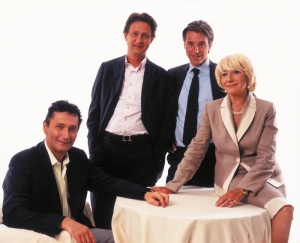 Pierre-Louis Delapalme, Rupert Schmid, Docteur  Philippe Allouche, Josette Allouche (Fondatrice)
Today, the Biologique Recherche Methodology has a reputation for astounding effectiveness based on a clinical approach to beauty care using intentionally pure, concentrated, raw ingredients, as well as innovative and meticulous protocols and procedures.
In the 2000's, Philippe Allouche, a Medical Doctor who showed an early interest in the profoundly different approach taken by his parents, gradually took over the creative side of the business. His experience in internal medicine gave him a holistic approach to the skin as an organ directly interconnected to all the other vital body functions. In addition, his work in intensive care units gave him expertise in organ reactions to acute stress. Now, his experiences add a new dimension to all the brand's own special techniques.
Biologique Recherche is an international brand, now available in more than 60 countries. The Ambassade de la Beauté, its flagship beauty institute, is located at the prestigious 32 Avenue des Champs-Elysées.
In Cyprus  BR is represented by Impophar through  Professional Beauty Salons and Spas.
The Skin Instant©
Doctor Philippe Allouche's "out-of-the-box" vision of the skin
To simply put it, our skin can be compared to a house.  If  the  roof  is  built  badly  and  cannot guarantee protection against external aggressions, everything inside is subjected to stress and becomes vulnerable. First,  one  needs  to  take  a  closer  look  at  the epidermis   to   create   a   surface   for   youth and radiance. This approach to observe how the epidermis is constantly interfacing with the skin's deeper structures is known as "interface cosmetology". It enables an understanding of how cosmetic active ingredients can act perfectly from the  moment they make contact with the epidermis without needing to go through it. A person has not one but several skins. Our skin's condition changes several times a single day as well as during the course of our lifetimes. Everyone has different Skin Instant® which can evolve during the course of one day.
The Biologique Recherche Methodology treats the epidermis according to its Skin Instant©.
Discovering the Biologique Recherche Methodology
Authenticity and harmony are the spirit and  essence  of  Biologique  Recherche skin care products
Biologique Recherche's face  care and  body care products meet specific characteristics:
High concentration (over 20% in most pro- ducts) of botanical, marine and biological ex- tracts.
No  artificial   fragrances   to   preserve   the integrity of the formulas and try to avoid allergic reactions.
Cold  made   formulations   to   preserve   the original structure of active ingredients
Highest quality of active ingredients available.
Products formulated  to  work  synergistically with Remodeling Face© for immediate, dramatic results
Our original Methodology is based on the following three fundamental stages.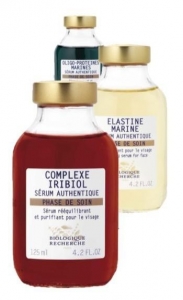 1 The Cosmetic Assessment Stage :
Using  a  specific physiological, behavioral and tactile approach, each person's Skin Instant®  is assessed so that the most appropriated tailored beauty treatment can be recommended.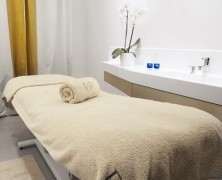 2 The Initialisation Stage :
Like many skin specialists, Doctor Allouche believes that the epidermis is central to skin care.  It  is  the  skin's  outer layer  and  the ultimate barrier which protects the integrity of our inner world. The epidermis' noble functions must be respected and it should receive customized treatment   applied   according  to   a   precise   and rigorous   ritual. At   Biologique Recherche we believe this stage is essential.
 3 The Treatment stage:
During this stage, products containing the highest concentrations of active ingredients are applied to "recondition" the epidermis and help activate both its regeneration properties and those of the skin's deeper structures. The skin is a complex organ designed for protection and communication which regenerates miraculously every  month  throughout  our  entire  lives. The unique benefits of these cutting edge, customized skin care treatments are both instant and lasting, even for particularly imbalanced Skin Instants®.
Cosmetic Haute Couture
Biologique Recherche has established its Ambassade de la Beauté, in central Paris in a hotel particulier on the Avenue des Champs-Élysées. The mansion, which is set back from the street by its own courtyard, was formerly the home of 20th century French politician Edouard  Daladier. Ever since 1993, Biologique Recherche's 300 square meter flagship beauty institute has served to showcase all of the brand's areas of expertise.
"A painter follows his inspiration and the colors he chooses give life to his work. A researcher finds his reward and gratification in achieving an objective. May the  quintessence of  my  passionate years of hard  work  and  research  serve  as  a  tribute  to Beauty"
Yvan Allouche, Founder of Laboratoires Biologique Recherche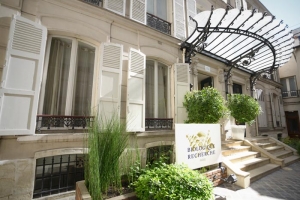 Ambassade de la Beauté is a registered name.
An embassy is the official diplomatic representation of one state in another.
Here, Beauty is represented. Ambassade de la Beauté  is  entirely devoted  to  beauty.  It  features everything you need to achieve a radiant complexion, a balanced figure, healthy hair, beautiful hands and feet as well as hair removal and hair dressing facilities, etc. It serves both men and women.
The name Ambassade de la Beauté appears almost to state the obvious and its slightly old fashioned charm reflects Biologique Recherche's fourty years of service to beauty.
And yet, this lively place is highly innovative.
The Ambassade de la Beauté beauticians have all been  trained  in  the  brand's  Methodology by  its cofounder, Josette Allouche. They are at the service of those who want to  experience truly effective and singular beauty care.
 Josette Allouche, who epitomizes the very heart and soul of this place, describes the Ambassade de la Beauté perfectly as "efficiency in a dream".
Surely no two things are more difficult to reconcile.
The  end  result:  genuine  know-how  combined with true passion.
Find us on Facebook
This article is also available in: Russian