INSPIRING MODEL JULIA KOLESNIKOVA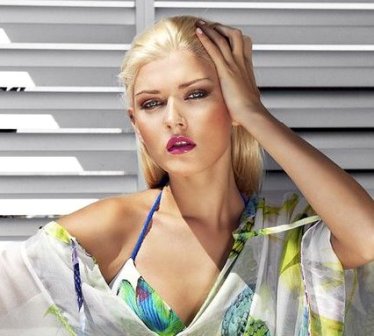 Meet inspiring model Julia Kolesnikova, the edgy charismatic model making waves across the runways and our June issue's summer editorial model for the second time running. During the photo shoot for the June Issue Julia on the shoot was compared to a young 'Brigitte Bardot' we were intrigued by this model's high potentials given by her vast success since we last met her back in 2011, we took to getting to know more about Julia and her whirling energy in modelling in this exclusive interview.
Name: Julia Kolesnkiova
Nationality: Russian
Home Town: Moscow, Russia
Agency: Freelance
SJ: Was modeling a childhood dream of yours? Tell us a little about your first experience in fashion modeling.
JK: I was 17 years old when I first had my modeling experience. It was a private fashion show in Paphos. It was something new. I felt great, the whole time i was surrounded by positive emotions which made me want to participate in such event more often.
SJ: Working as a fashion model do you think that your sense of self has changed? You are surrounded by a heard of people all at once getting you ready for a shoot or show, make up artists, stylists, hair stylists all commenting on what to do and what not do, complimenting you, it must be a lot to take in all at once. What are a few of the great things that you have experienced so far as a model?
JK: Yes, it has definitely given me more self confidence. As a model I get to meet great people. New models, stylists, make up artists, the whole process of modeling makes me feel that for a day I am living a different life and I get to be a different character whenever we shoot. It gives me positive emotions and tones of energy.
SJ: It is very true when you mention the confidence that you take with you after such   experiences; Clothes Designer Yves Saint Laurent said " I have always believed that fashion was not only to make women more beautiful, but also reassure them, give them confidence". It is certainly special to be the star role on a shoot for a high fashion magazine, what about the recent photo shoot with Moi Ostrov where you co-stared with model Anastasia Chornaya. Did you enjoy your time during the Moi Ostov photo shoot? What did you like the best on the location and if you were to choose; what item that you wore during the shoot would you add to your summer wardrobe?
JK:  It is my second photo shoot for Moi Ostrov. It was my pleasure to do it again. All the places where we went on shoot were absolutely breathtaking. For my summer wardrobe I'd love to have the Chanel sun glasses and I would say its hard for me to choose what clothes to pick specifically, if everything already is what a girl should have in her wardrobe for sure; thanks to the styling by Lolita Papacosta.
SJ: Right now there is a big trend on tattoo's especially now that its summer and people want to show off their new ink, we see high fashion models, actresses all have there go on a tattoo. Do you think that is okay to have a tattoo being a model?
JK: I personally don't have any tattoos on my body. I think it's not the best way to express yourself and as there are other ways to do it. In my opinion a model should remain classy.  As for myself I wouldn't go for it. If a model decides to have a tattoo, it should be something meaningful for themselves, gentle and small.
SJ:  Quite right it is always best to flaunt what you have and not vandalize it in a way; with permanent substances , just like the great Coco Chanel said "a girl should be two things, fabulous and classy", on the subject of expressing yourself, your hometown being in Russia what message of hope would you like to give with all the present politic issues going on?
JK: I am proud of the Russian power. Our president Vladimir Putin is fighting for peace. I absolutely support it and wish it for all the countries around the world.
SJ: Speaking of powerful leaders though in Fashion;, what fashion designer would you like to walk for one day and why?
JK:  My biggest inspiration is the house of Dior and the house of Chanel. They are both well known worldwide, both are luxurious, charming and classy.
SJ:  I'm sure that your goals in life will come true thanks to your energetic confidence your efforts will not fail you. As model and being familiar to this type of work in the industry, some of the other benefits besides the ones that you already hold such as a unique face and a great body, what other things are also important so that you maintain a good professional presentation as a model which can help land future work in modelling?
JK:  I think one of the most important aspects to maintain a good professional presentation as a model is to remain yourself, to be simple and leave the ego aside, you must enjoy it and have fun, do not let it destroy your beautiful personality.
Julia Kolesnikova a model that stands by her views and passions in fashion, thus she is a real source of inspiration for future fashion models. Stunning, smart, sexy, educated, motivated, and sweet; all these things encompass the lovely Julia starring in Moi Ostrov' s 55th Issue editorial soon on our stands near you.
SarahJane Kyprianou
Fashion Columnist
Photos of 2011 Moi Ostrov June edition, issue No. 22, Photographs by Daniela M. , Model Julia Kolesnikova, Make-up by Melita Menelaou, Styling by Lolita Papacosta, Hair by Dimitra.
This article is also available in: Russian