NEWEST FASHION OBSESSION MODEL ANASTASIA CHORNAYA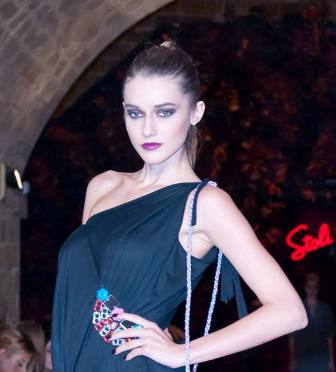 One of the islands newest fashion obsession that has been in the spotlight for quite some time now with her modelling both on the runway and featured in various high fashion magazines across the island, including our latest editorial shoot for Moi Ostrov' s June edition issue No.55 out soon! Anastasia has catwalked for renowned Fashion Designers such as G. Englezos, EfiEri Melanidou, Varma, Polina Argirou and many more on a marathon of shows such as the Cyprus Fashion Model Awards, Limassol Fashion Day and in the Elite Fashion Shows. Anastasia differed from other girls in her hometown back in Ukraine at the age of 17 as she moved to Cyprus on her own to live a new life of independence and to follow her goal as student at the University of Nicosia choosing to major in Tourism, Leisure and Event Management.
As summer and bathing suit season has finally started and in honor of our June Issue we meet with model Anastasia Chornaya and managed to sneak in a few questions with the most watched fashion newcomer of the season.
Name: Anastasia Chornaya
Nationality: Ukraine
Home Town: Kiev, Ukraine
Agency: Freelance
SJ: So Anastasia, tell us a little on how your association in the fashion world stared and was this something that you were originally aiming for as a side career?
AC: Since my childhood years, I had always dreamed about being a model, and when I became 12, my parents brought me to a Model Agency in Ukraine, that's how my teenage model career started off. As I was getting older, it was time to think of the more important things in life like getting a good education of which was mostly what I focused more on, so I stopped the carrier in modeling for about 3 years and that's when I decided to move to Cyprus for my higher studies. From this big move I became more independent; I grew up and learnt how to take care of myself. Last summer back in 2013, I participated in the Cyprus Fashion Model Awards and got ranked into the 10 finalists, and that's how my career started off again in modeling, apart from Cyprus, I also have some projects coming up from abroad as well.
SJ:  What a journey it must have been for you to come this far, especially after moving out here on your own at such a tender age. It is great to here such stories as yours resulting in fantastic life opportunities. Now that you are currently going through your finals at the University of Nicosia, how do you manage to find time for yourself with your studies and modeling, and do you think you will continue in fashion after your final graduation?
AC: To be honest, it is really difficult to get concentrated on two things at the same time, but I always knew how to separate my time, in order to be perfect in everything. I never thought about taking modeling as a permanent job, but if I have a better chance in this, why not? It might be my future.
SJ: There are many designers that try to portray everyday people's fashion sense from their statues in class, country's traditional clothes to other stereotype idolizations of celebrities ect. , this can occur mostly as their source of inspiration. Let's turn this thought around and ask you to name one fashion designer that you can relate to in terms of their signature designs of which your personal style is based on?
AC: I am totally in love with Roberto Cavalli, he is one of my favorite designers now days. I prefer elegance, classic looks, grace dresses and that's exactly what he is magnificent in.  Let's say elegance in everything. You always have to look perfect, be ready for everything, who knows what can happen to you. Always ready.  Very rarely would you see me in sporty and casual wear.
SJ: Did you enjoy your time during our Moi Ostov photoshoot for the June summer special edition co-staring with model Julia Kolesnikova? What was your favorite item that you wore during the shoot?
AC: The photo-shoot was amazing! I had so much fun with the Moi Ostrov team, it was a nice experience to also work as a pair with another model, so I am really glad I met them. I cannot really distinguish some particular item from the shoot, it was so much clothes, beach-wear, dresser, sun-glasses, but definitely I would choose the amazing Just Cavalli swim wear.
SJ: Cyprus has so many beautiful locations especially its sandy beaches, the island seems to tempt you to choose these locations for the perfect summer shoot its hard not to. Knowing you need to be bikini body ready for similar locations the next day, do you have any tips for when you have to be in a bathing suit the next day?
AC: My personal tips as a preparation for a shooting are; not drinking a lot of water in the day especially for a photo shoot, don't eat a heavy food prior the shooting so that my abdominal area remains flat. Avoid salty food, avoid drinking any alcohol and finally using some prep-me-up body treatments.
SJ: In mention to beauty routines and apart from the preparations involving your hard working model schedule, what else do you do in preparation for summer?
AC: I cannot say that I do anything in particular in order to be ready for summer, I don't diet, I eat healthy and most importantly I am not a smoker. Sometimes I let myself to some wine. I do drink a lot of water, train in gym, also practice yoga and pilates. That's what actually keeps me in shape for the whole year and not just the summer!
SJ: I'm sure you are also very familiar with the Cyprus heat that is not necessarily just during the summer months either, which is one of the reasons why we love this island so much! So hence these ultra hot summer months, what is your favorite item to wear right now?
AC: My favorite items for now are a light jumpsuit, hat and a comfortable pair of ballerina pumps.
SJ: It is so refreshing to see young and healthy faces such as yourself in the modeling industry, there is a big debate on what body type you can name "healthy" as a model, can you tell us what looks unhealthy to you? And lastly; what would you say to girls who look up to you and want to make it as model?
AC: We are all different, and everyone has their own imagination about what is good and what is bad. As for me, the idea that model has to be impossibly skinny is totally untrue, in my opinion a real models' body has to look trained, muscled, and healthy. In order to be a model, you need to find in yourself something special that can actually keep you different from everybody else. Nothing difficult:  Remain self-confident, love yourself, love your body and be happy with everything that comes to you. I am pretty sure that everything happens for a reason.
We definitely will have one super hot summer with the release of this year's June edition issue No.55  thanks to model Anastasia Chornaya the island's 'It Model' right now. Anastasia' s whole image has that special, something which commands the industry's attention and succumb to her, hence aside from her style and demeanor of intelligence and laid back personality, no doubt that there will be more great experiences in fashion under her belt launching her career to star level.
SarahJane Kyprianou
Fashion Columnist
This article is also available in: Russian