moiostrov.com with: Actress Christina Marouchou main cast member from the theatrical show Mr.&Mrs. Nikolaides Sexual Life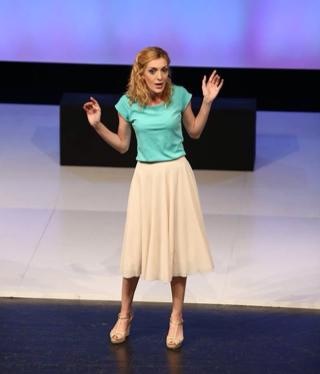 Moi Ostrov meets Christina Marouchou from Canada well known Actress, TV and Radio Host now starring as Mrs. Nikolaides in this summer's funniest of theatrical performances called Mr. & Mrs. Nikolaides Sexual Life now playing in Cyprus nation wide, we took 5 minutes out of her busy time to ask of her thoughts on relationships and a little about herself as well:
Moi: So Christina what do you love about your character in this play? Do you agree with the way she handles the situation of the couple's bedroom problems?
C.M: I love the fact that she is so real and blunt. She's hard working, independent and strong willed, character traits I generally like and respect.  Moreover, I love the fact that the play in general deals with serious relationship issues, but in a comic way, which is really fun to do. Obviously this couple has tried certain things before reaching out to a professional therapist to help them and she mentions that it was her idea, so I think she is willing to work to fill in the gaps of her relationship.
Moi: In the play the couple has their ups and downs and in their case mostly downs as you say;, we'd like to know what' s your secret is to a happy relationship?
C.M: Definitely compassion, understanding. Trust. Good communication. And chemistry. Two people have to really be willing to work hard to maintain the relationships to make it work and keep it alive. It takes commitment and passion. And of course, they have to really, truly enjoy each other's company to make it work.
Moi: On another note mentioning 'working hard', as busy working actress, from your side of things; do you think you will continue to peruse more roles in theater or on screen after this?
C.M: Theater is my great love, I like television and film as well, but there is something about theater that really gets my heart going
Moi: On a spontaneous note! We hear you are also a big Disney fan, which princess is your favorite and why?
C.M: Tinkerbell because she's tiny and blonde and makes magic happen. And Cinderella. She gets shoes in her fairy tale!
Moi: No doubt your living your fairy tale dream right now, as you have done really well with your career here in Cyprus so far; both as an actress and host, though do you see yourself acting back home in the states as well?
C.M: I don't know, it's always at the back of my head going back home to Canada at some point, even for a little while. I kinda did that a few months back, I went to New York for two months after I got accepted at Stella Adler for Acting master classes and I really enjoyed the different lifestyle, I felt it suited me better, it felt more familiar. Of course to break into such an industry is much much harder compared to Cyprus, it's a huge industry with a lot more competition, and sometimes I wonder if I'm good enough or if I could even handle it. I don't know, I'm open to challenges and if an opportunity comes up, like the one in New York, I'll definitely go for it again!
Don't miss the very devoted actress Christina Marouhou and her fellow cast members in this laugh out loud theater performance in a town near you!
Click here: http://www.moiostrov.com/moi-ostrov-goes-to-the-theater/  to find out where the next performance will take place for your chance to experience one of the most entertaining of plays this summer!
This article is also available in: Russian