Text: ELIZABETH ENDRO
Photo: ALEXANDR STRELTSOV
When Roland Macy, Harry Selfridge, John Wanamaker, Aristid Busiko and Sidney Myer – founders of shopping – were creating their first-ever shopping centers in Paris, New York and Australian Sydney, they had one common aim — to entice the most fashionable and sophisticated women of the era. The first multistoried boutique "Busiko" was opened a bit more than one hundred years ago, but the main principles remain the same. Boutique of a dream is the place where women can enjoy beauty, imagination and a wide range of choice.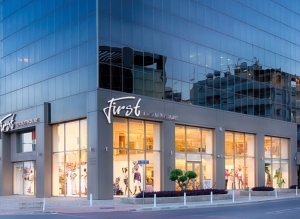 The First Boutique in Limassol, which was opened on September 19, 2012, is also eager to present a bit of fairy tale and beauty to the most fashionable women of the time. And while women flit between scandalous dresses by Zuhair Murad and bags by Loewe, men can have a rest on convenient sofas, drink coffee or even champagne, but then they would probably like to estimate the Italian suits Billionaire or well-known handmade sunglasses Chrome Hearts. This magnificent fashionable boutique houses breathtaking designer collections of clothes for men, women and kids of such brands as Salvatore Ferragamo, John Galliano, Emanuel Ungaro, Philipp Plein, Ermanno Scervino, Gianvito Rossi, Jason Wu, Thomas Wylde, Zuhair Murad, Jenny Packham, Jacob Cohen, Loewe, Camilla, Silvian Imberg, Billionaire Italian Couture, Kiton, Santoni, Svevo, etc.
Santoni and Kiton are the new boutique acquisitions. Santoni is the Italian company which produces luxury handmade footwear and a fashionable brand.
Santoni is known for coloring their footwear by hand. According to the managing director of the company Giuseppe Santoni, "people strive for individuality, uniqueness of their clothes and nothing can be more individual, than the pair of shoes, which nobody else has, because it is impossible to repeat the pattern created by handicraftsman's hands".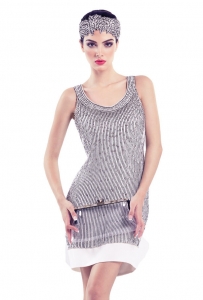 Dress, belt, handbag – all by Jenny Packham, First Boutique
Kiton is a symbol of the Neapolitan men's fashion. Nowadays Kiton is one of the most commercially successful and popular clothing brands not only in Italy, but also around the world: in Great Britain and America, England and Spain, France and Germany, Ukraine and Lithuania, Russia – in more than 60 countries. Creations of the Lebanese fashion designer Zuhair Murad occupy a great deal of the second floor. Straight from the heart of fashion, from the catwalks of Paris and Milan: an intricate cut, creativity and unabashed feminine sexuality. The designer's masterpieces, made of transcendent fabrics remind us of the Egyptian princesses' and the Greek goddesses' attires. Perfection and majestic nobility accompanied with explicit tournure make dresses in Zukhair Murad's collections rather modern. Shakira, Beyonce, Christina Applegate and Ivana Trump are just a few of designer's famous clients and fans.
In one row with Zuhair Murad's dresses there is a collection of British designer Jenny Packham, who is only becoming popular. Jenny Packham offers an English glamour, sophistication, and elegance. A lot of celebrities have already fallen in love with Jenny Packham's brand. Kate Hudson, Rosario Dawson, Catherine Zeta-Jones, singer Adele and the duchess of Cambridge Kate Middleton used to wear this brand. Jenny Packham's creations can be spotted in such movies as "Sex and the City", "The Devil Wears Prada", and in the latest saga about James Bond. The singer Anastasia and Elizabeth Hurley entrusted Jenny creation of their wedding dresses. The designer won a prestigious British Bridal Award in 2008 for the best collection of wedding dresses.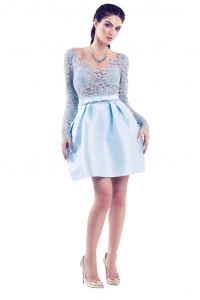 Dress by Zuhair Murad, a necklace by Tom Binns, in First boutique
The rest of the second floor is taken by swimwear, clothes, bags, beach footwear by Israeli fashion designer Silvian Imberg and Italian couture house Via Delle Perle (VDP). The swimwear made by Silvian Imberg is extremely beautiful due to the original decoration, embroidery, various prints and ornaments with exotic motives. The Italian brand VDP is rather young, but it can already boast of eminent roots and noteworthy collections. This brand has grown from small manufacture – the partner of such legends of fashion as Escada, Armani and Donna Karan New York. That's why VDP founders are used to work with feeling and always use only the best materials to create elegant female image.
VASHIOTIS BUSINESS CENTER
Street: 28TH OCTOBER & IACOVOU TOMBAZI, LIMASSOL, CYPRUS
Telephone: +357 70001151
E-mail: [email protected]
Facebook: WWW.FACEBOOK.COM/FIRSTBTQ
Website: http://www.firstbtq.com/
This article is also available in: Russian