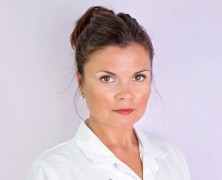 Dear residents of the hot island! During the summer heat skin hydration becomes especially important. That is why Ericson Laboratoire presents Hydro Clinic line. 
Text: Olga Denisova, beautician and distributor of ERICSON LABORATOIRE Cyprus.
This line is selected for a reason. 99% of women complain that their skin becomes very dry in the summer season and that their usual skincare products have only a superficial and short-term effect. But the products are different…
Hydro Clinic is a program on the cutting edge of innovation, which applies the latest scientific discoveries in the field of biology and medicine. This is a dermatological hydrogenation and nourishing skin care, restoring the natural moisturizing mechanisms of the epidermis and increasing the distribution of moisture to the optimum level. Adhering to our innovation strategy, we took the best European Biomedical achievements and created on their basis amazing products, which help to achieve outstanding results.
Recent scientific researches in the field of cell structure call for a fresh approach to dry skin care and made us review the consistency of the skincare products. It is important to note that in the basis of skin care technology there is a discovery, which received the Nobel Prize. It is called aquaporin. The line includes substances that contribute to the development of aquaporins – micro channels through which the moisture is distributed within the epidermis. The "intellectual hydro-lipids" help to adjust the level of skin moisture depending on the environmental moisture level.
There are also natural ingredients and self-regulating phytocomplex significantly improving the process of epidermis regeneration. Lasting hydration and regeneration of damaged skin is achieved due to a special technology – so-called "micro patches".
Thus, we are able not only to moisturize the skin, but also to restore it. It is very important, because the normalization of the skin moisture level is a pledge of its youth. Be beautiful!
Contact your beautician or our office at the following address: Vassili Michaelide 25, Limassol and call 996 74 853.
This article is also available in: Russian